LED Dance Floor Rentals in the Michigan Great Lakes Bay Region
One of the most important aspects of hosting a great event is hiring a professional DJ who knows how to get everyone up and out on the dance floor. That being said, you want to ensure your dance floor is as inviting, inspiring and engaging as possible. There's nothing that draws people in more at weddings, corporate parties, special celebrations, and other events than LED dance floors!
Pricing begins at $1599 and up for this rental service. We will provide a team of 2-3 operators that will transport, set up, operate and tear down this beautiful floor. Customization with your names, dates, scrolling text messages and specific color palettes are possible for an additional fee.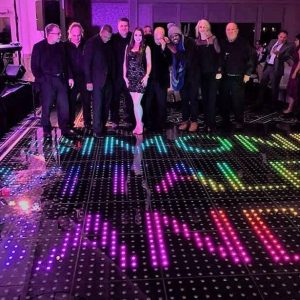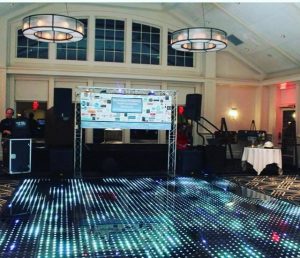 Nightlife Entertainment has everything you need to light up the night, offering professional DJ services and LED dance floor rentals in Saginaw, Bay City and Midland, MI.
Check out our official YouTube channel here for video coverage of our LED Dance Floor.
This video of our LED Dance Floor is courtesy of the beautiful venue, Midland Country Club,  and the  Midland Fire Fighters Youth Foundation Annual Charity Ball 2019 in Midland, MI.
LED dance floors are a great way to add something special to your event. Transform your ordinary venue space into a master-class hot spot. Make the center of your reception venue the talk of the night with this main attraction. Your guests will know exactly where the party is with this fully customizable, programmable, remote-controlled and dazzling focal piece. The LED dance floor has the capability to glow, flash and illuminate your celebration to the beat of the music & with preset customized lighting patterns creating a sea of harmonious and spectacular floor displays for you and your guests. Whether your venue lacks a designated dance floor space of their own or the one currently in place just isn't your style, this is your must-have solution!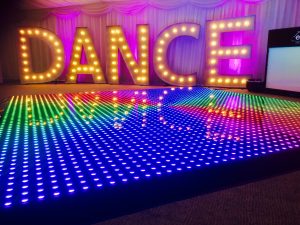 At Nightlife Entertainment, we're committed to making sure that our clients and their guests have the best time when they hire us for any of our event entertainment services in the Great Lakes Bay region. We are confident in our ability to exceed your expectations in all areas of your special event entertainment. The LED dance floor rentals we provide will take your event from a fun night out to a guest experience no one will soon forget.
Light up your celebration night with LED dance floor rentals from Nightlife Entertainment!
To learn more about renting LED dance floors in the Michigan Great Lakes Bay Region, contact Nightlife Entertainment at 989-878-1689 or by email at jeffrey.nightlife@gmail.com and schedule a consultation today. Pricing for LED dance floor rentals is a custom system pending size of floor needed and the level of customization desired. Pricing begins at $1499 per event and up. Please call for more info.